SPOTLIGHT
David Kowalk, M.D.

David Kowalk, M.D. is a well-respect, experienced orthopaedic surgeon practicing with Monocacy Health Partners in Frederick, MD.

David Kowalk, M.D. received his degree from the University of Michigan Medical School in 1991. He completed his Residency in Othopaedic Surgery at the University of Virginia Health Sciences Center. He also completed a fellowship in Sports Medicine at the New England Baptist Hospital. He is a Board Certified Orthopaedic Surgeon and is a member of the Health Grades Honor Roll. He has been practicing in Frederick since 1998.

Please
Tell Others
About Us!
Ouch! Why does my shoulder hurt...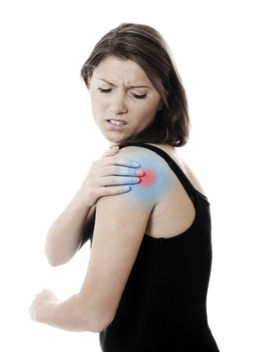 There are many pathologies of the shoulder. A common pathology of the shoulder is an impingement syndrome. I was able to sit down with Dr. David Kowalk, M.D. (see spotlight) and discuss the three major types of shoulder impingement: Primary, Secondary, and Internal. Primary Shoulder Impingement (PSI) is the direct result of compression of the rotator cuff tendons. Secondary Shoulder Impingement (SSI) is typically due to compressive forces from instability of the shoulder joint. Posterior Internal shoulder impingement (PII) is the result of the articular surface of the rotator cuff getting pinched on the glenoid rim with external rotation and abduction of the shoulder.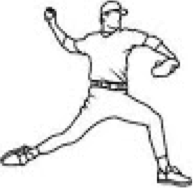 Dr. Kowalk states PSI is typically seen in individuals over the age of 50. It could occur from structural abnormalities (shape of the Acromion process), position of the arm (reaching across your body), or anything that diminishes the space known as the subacromial space. SSI is usually due to instability of the shoulder. Instability can occur from excessive forces often seen in overhead athletes, but can also occur if there is chronic laxity (looseness) of the shoulder joint. Dr. Kowalk states the third type of impingement occurs when the undersurface (articular surface) of rotator cuff gets pinched on the Glenoid rim. An example of the kind of injury occurs when the arm is in the position known as the late cocking/early acceleration phase of an overhead athlete (see picture).
---
Physical Therapy - the Key to Recovery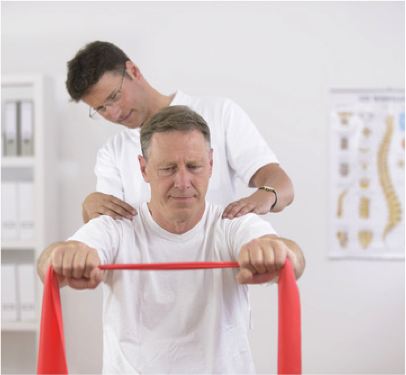 Physical therapy plays a crucial role in recovery from any type of impingement. Dr. Kowalk states "no matter what type of shoulder impingement conservative care is always the first option." This means the use of rest, ice, NSAIDs (non-steroidal anti-inflammatory drugs), physical therapy and in more debilitating conditions, a cortisone injection.
Physical therapy will help position the shoulder joint in the right position. Scapular (shoulder blade) dysfunction could be an underlying cause, or, could be exacerbating the injury. A key component of early management is "scapular stabilization". Working on posture and weakness of the rotator cuff is also very important.
Exercise - A customized program of exercise to build stability, strength and muscle control helps offset scapular dysfunction and muscle weakness. Also working the entire core could help improve proper shoulder mechanics of the overhead athlete. Patients will be provided with a strength and stability program that can be implemented at home and work.
Clinical Pilates - At times, a specialized exercise program can be designed to regain muscle strength, tone, and control. Exercises may be performed with specialized equipment or independently.
Electrical Stimulation (modalities) - Theses technique are used to improve muscle and ligament tone. This is a useful method to control pain and inflammation.
Mobilization - Posterior Capsular Tightness of the shoulder could be contributing to the impingement syndrome. Your physical therapists are experts on determining if there is hypo-mobility or hyper-mobility of the shoulder joint.
TESTIMONIALS
"The medical staff works hard to maximize each visit, building from one therapy to another so that the rehabilitation process is both reassuring and medically comprehensive. I always felt that I was in great hands, and always treated with both compassion and competence." ~S.H.
"I was referred to Superior for physical therapy as I had torn my rotator cuff and chose not to have surgery. You and your staff have been most helpful in getting me to the point that I 'graduated'." ~M.S.
"We cannot praise your group enough, as you have made Xxxxxxx's life so very much better." ~D.S.
"Both of my shoulders feel great. I am so grateful to Earl and his staff." ~F.V.
---
Meeting the Challenges of Shoulder Impingement
Dr. Kowalk and I want to advise that it is always important to stop the activity that is causing or exacerbating the pain. Avoiding additional inflammation and damage to the area is always important. The shoulder must be evaluated carefully to determine the best course of treatment. As your physical therapists and physician, we will do everything possible to relieve your pain, prevent further damage, and provide the rehabilitation framework to help you recover quickly.
Additionally, physical therapy can help with any pain or discomfort in any joint in the human body. If you or a loved one is experiencing stiffness, tingling or loss of joint function, give us a call. The underlying cause for simple 'aches and pains' can be easy to ignore and lead to further pain and injury. Therefore, we encourage you to reach out to us as quickly as possible.
Through a routine of specialized exercises, manual therapies, and modalities we can help you regain strength, stability, and functionality. Give us a call to discover how physical therapy can help heal your shoulder and every joint in your body. We look forward to hearing from you!
Thanks and Welcome
Special thanks to Dr. David Kowalk, M.D. for his time and commitment to care. Also, I would like to welcome Dr. Erin Roosa, DPT, ATC, PRC and Dr. Brendan Glackin, DPT, CSCS to our excellent staff here at Superior Physical Therapy and Sports Rehab.